William Cecil built Burghley House as a country home for the dynasty that he founded and as a demonstration of his wealth and power. Externally, it is largely as he left it. Within it has been transformed by his descendants and filled with an extraordinary Collection of wonderful things.

Burghley remains a family home, occupied by a direct descendant of the Lord Treasurer, who leads a team devoted to the preservation of the House, its contents and the surrounding Estate for the enjoyment and education of all.
1520-1598
Sir William Cecil, 1st Baron Burghley
1648-1700
John, 5th Earl of Exeter
1725-1793
Brownlow, 9th Earl of Exeter
1754-1804
Henry 10th Earl and 1st Marquess of Exeter
1795-1867
Brownlow, 2nd Marquess of Exeter
1876-1956
William Alleyne, 5th Marquess of Exeter, KG
1905-1981
David, 6th Marquess of Exeter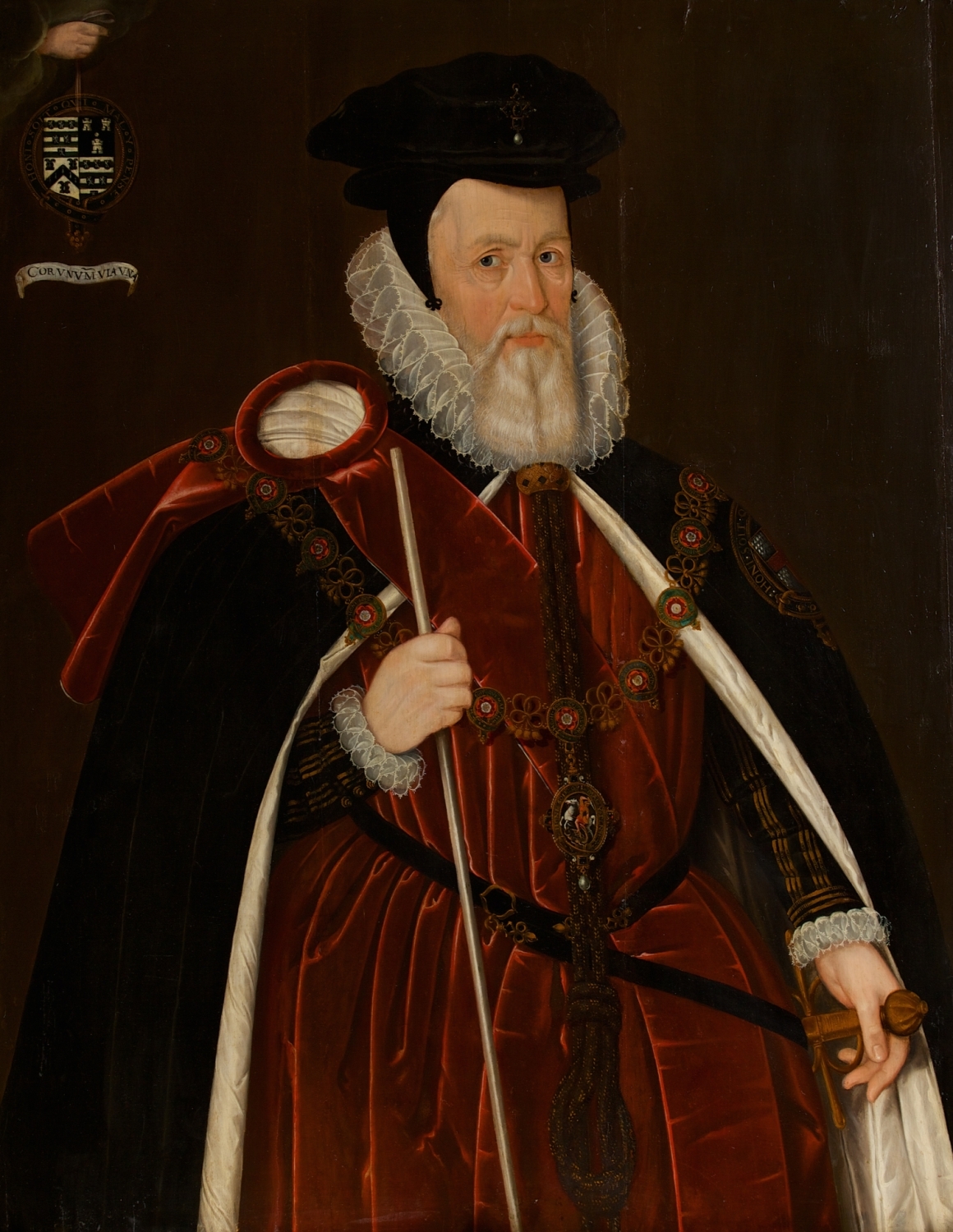 William Cecil, 1st Baron Burghley by Marcus Gheeraerts the Younger (1561-1636)
1520-1598
Sir William Cecil, 1st Baron Burghley
Lord Burghley was undoubtedly the greatest and most powerful councillor of the first Elizabethan era. Born in the parish of Bourne, the son of a minor courtier for Henry VIII, William Cecil had an astonishingly successful career. After showing prodigious talent at his school in Stamford, at the age of 15 he was entered at St John's College, Cambridge. By 1541 William had enrolled at Gray's Inn to study law and in the same year married Mary, the daughter of his tutor John Cheke. They had a son, Thomas, in the following year, but by 1543 William was widowed. His second marriage was to Mildred Cooke, intelligent and formidably learned, she bore him five children, and they enjoyed a long and happy partnership.
William's service at court began under the Duke of Somerset and he remained a public figure until the succession of Elizabeth when his loyalty to her was rewarded by becoming a member of her Privy Council in 1558. Created Baron Burghley, Knight of the Garter in 1572, Sir William Cecil was secretary, Lord Treasurer and Chief Minister to Elizabeth whom he served for over 40 years. His relationship with Elizabeth was unequalled by any other courtier and she rewarded him with grants of land and Crown offices continued throughout his long career. Cecil had inherited the manor of Little Burghley from his father and although his principle residence was the vast palace of Theobalds, he spent over 30 years creating his second great 'prodigy' house at Burghley to establish a dynastic family seat for his descendants. Both of William's surviving sons were to follow in their father's footsteps at Court and were enobled in 1605 under James I; Thomas created 1st Earl of Exeter and Robert, 1st Earl of Salisbury. Burghley became the principal residence of the Exeter Cecils and still is today. Burghley's elder son, Thomas became Earl of Exeter in 1605. His younger son, Robert, who had been trained by his father to follow him in Court politics, became Earl of Salisbury in the same year.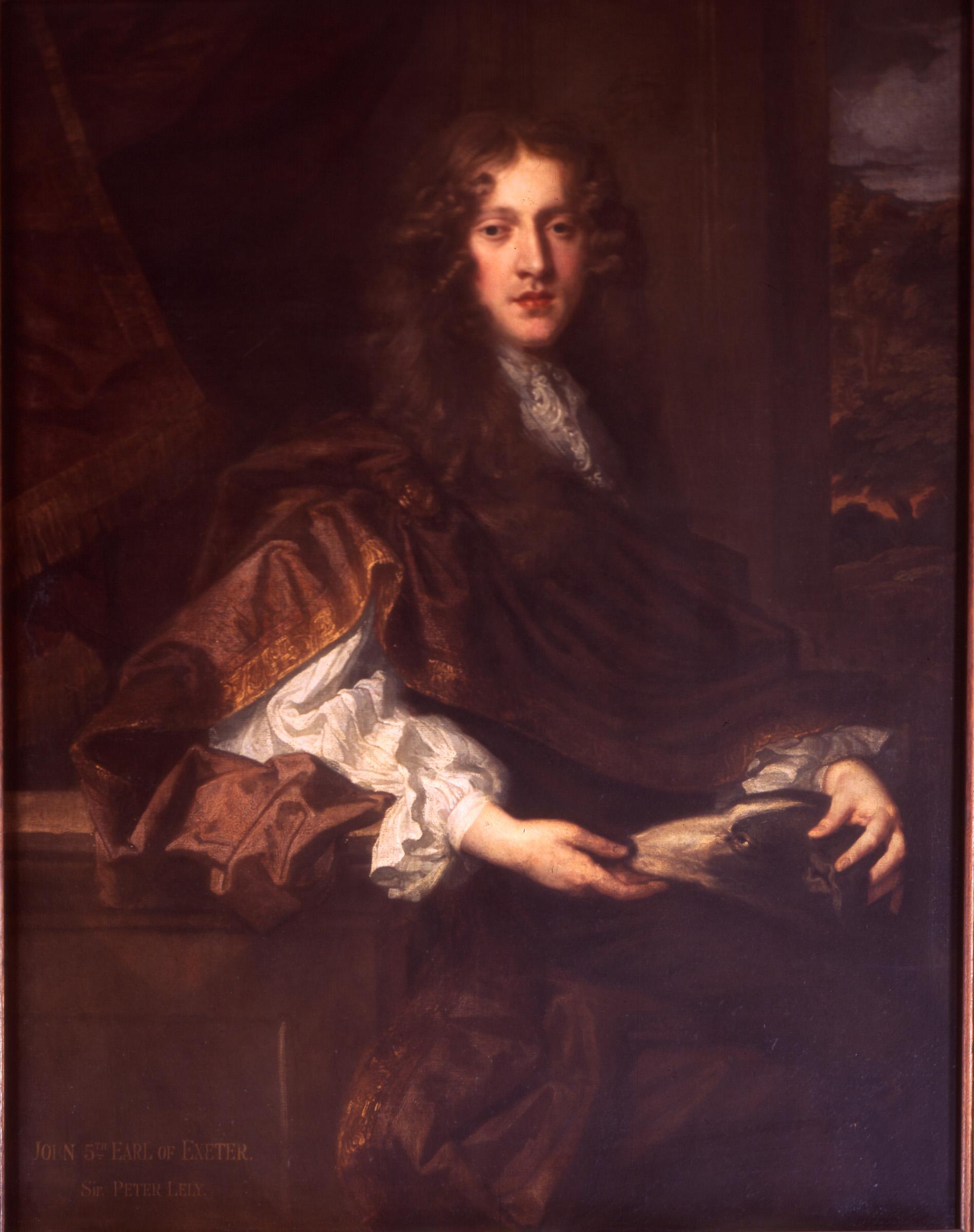 John, 5th Earl of Exeter by Sir Peter Lely (1664-1688)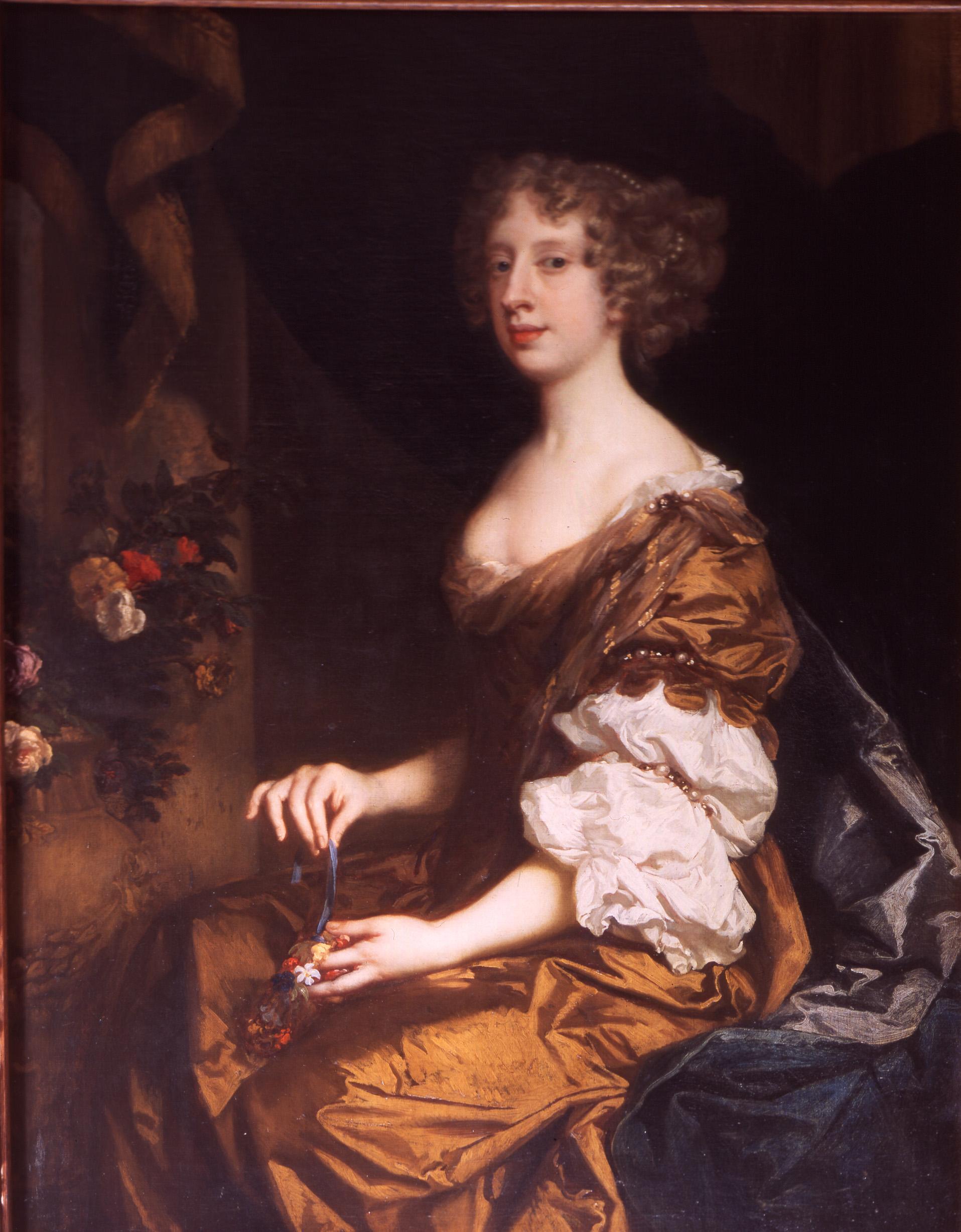 Anne, Countess of Exeter by Sir Peter Lely (1664-1688)
1648-1700
John, 5th Earl of Exeter
In 1670, John Cecil married Anne Cavendish, only daughter of the 3rd Earl of Devonshire, thus combining two great family fortunes. Both the Earl and his Countess were great patrons and collectors of contemporary art. They travelled to the Continent on four extended visits, meeting and purchasing from the foremost French and Italian artists of the day. At home they employed a wide variety of the most skilful craftsmen to transform Burghley into their vision of a European palace. The stateroom ceilings and walls painted with magnificent scenes from mythology by the Italian , Antonio Verrio, are considered to be his masterpiece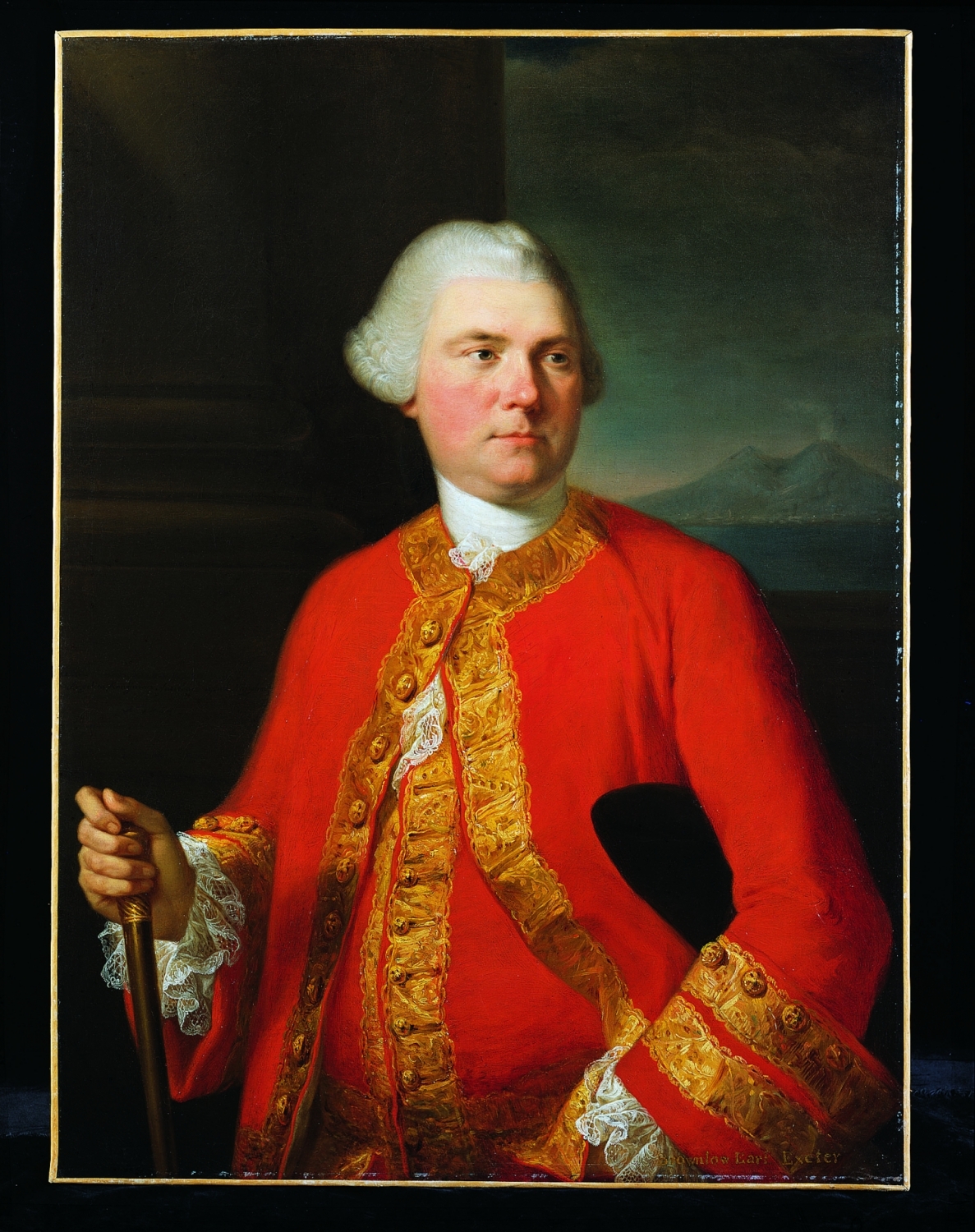 Brownlow, 9th Earl of Exeter by Angelica Kauffman, R. A. (1741-1807)
1725-1793
Brownlow, 9th Earl of Exeter
Brownlow, 9th Earl of Exeter
Brownlow, 9th Earl inherited the title in 1754. The Estate was solvent and prosperous; he was an enthusiastic collector and patron of the Arts who was able to complete the decoration of the principal staterooms, known as the George Rooms, which had remained in an unfinished state for more than fifty years. Brownlow shared the 5th Earl's enthusiasm for Continental travel. Widowed in his early 30's, he undertook two Grand Tours upon which he purchased a great many superb works of art. His portrait, by Angelica Kaufmann, shows him standing proudly, with the Bay of Naples and Vesuvius behind him. At home, he employed Lancelot 'Capability' Brown to completely redesign and alter the gardens and parkland, as well as involving him in several major alterations to the House itself.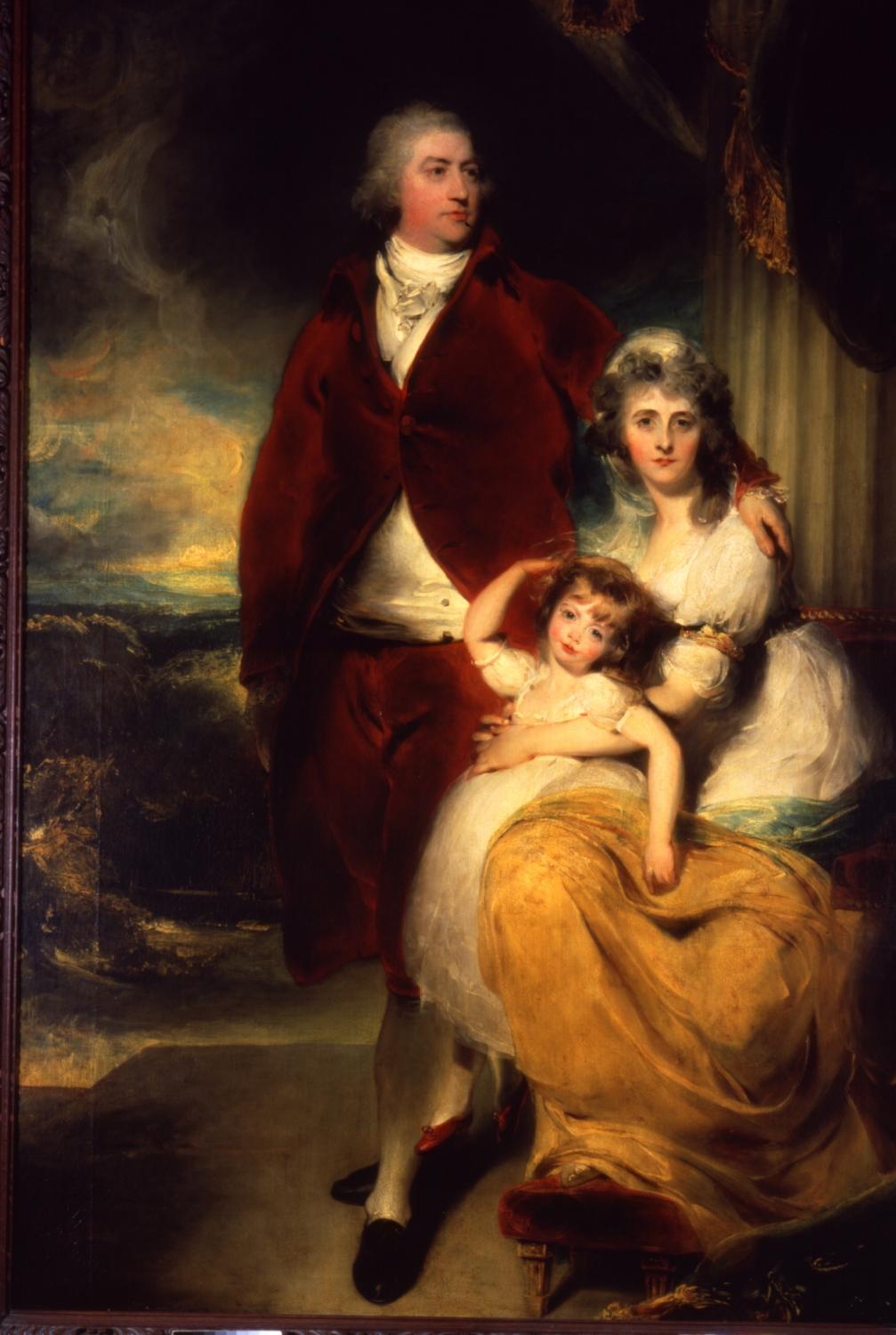 Henry, 10th Earl and 1st Marquess of Exeter with his wife, Sarah Hoggins and their daughter Lady Sophia Cecil, By Sir Thomas Lawrence, P.R.A. (1769-1830)
1754-1804
Henry 10th Earl and 1st Marquess of Exeter
There is a romantic melodrama attached to Henry Cecil, who was the adopted nephew of the 9th Earl. Henry's first marriage was to Emma Vernon. This marriage ended when she eloped with the local vicar. Distraught, Henry then chose to live anonymously in Shropshire. There he lodged with a local farmer named Hoggins. Farmer Hoggins had a beautiful young daughter, Sarah, with whom Henry fell madly in love and married in the local church. Unfortunately, Henry neglected to first obtain a divorce from his estranged wife. It took an Act of Parliament and Royal Assent to dissolve the earlier marriage, enabling a second ceremony to take place. Upon Henry inheriting in 1793, the couple returned to Burghley, where poor Sarah struggled with her new position, becoming spitefully known by some as the 'Cottage Countess'. Sadly, their love was not to last; Sarah fell desperately ill after the birth of a son and died, aged only 23. Their somewhat sad romance was celebrated by the poet, Alfred, Lord Tennyson in a rather turgid poem, 'The Lord of Burghley'.
Henry was elevated to the rank of Marquess in 1801 and commemorated this by building the unusual Bottle Lodges at the entrance to Burghley on the Great North Road. He married thirdly, Emma, Dowager Duchess of Hamilton.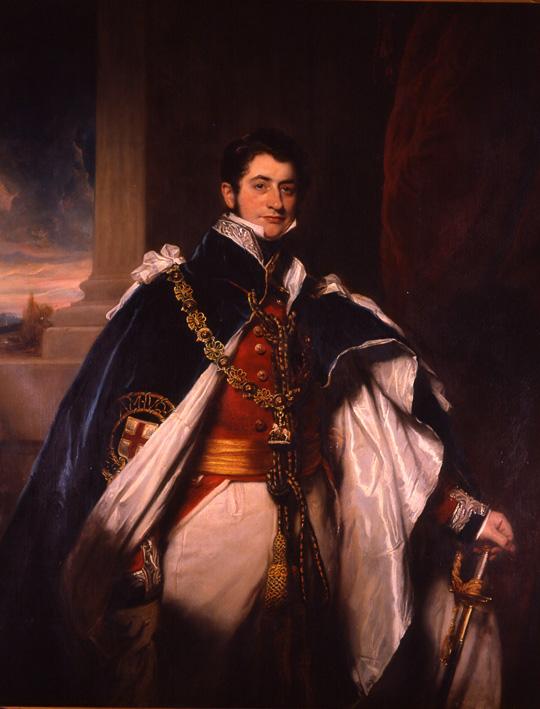 Brownlow, 2nd Marquess of Exeter, K.G., by Sir Martin Archer Shee, P.R.A. (1769-1850)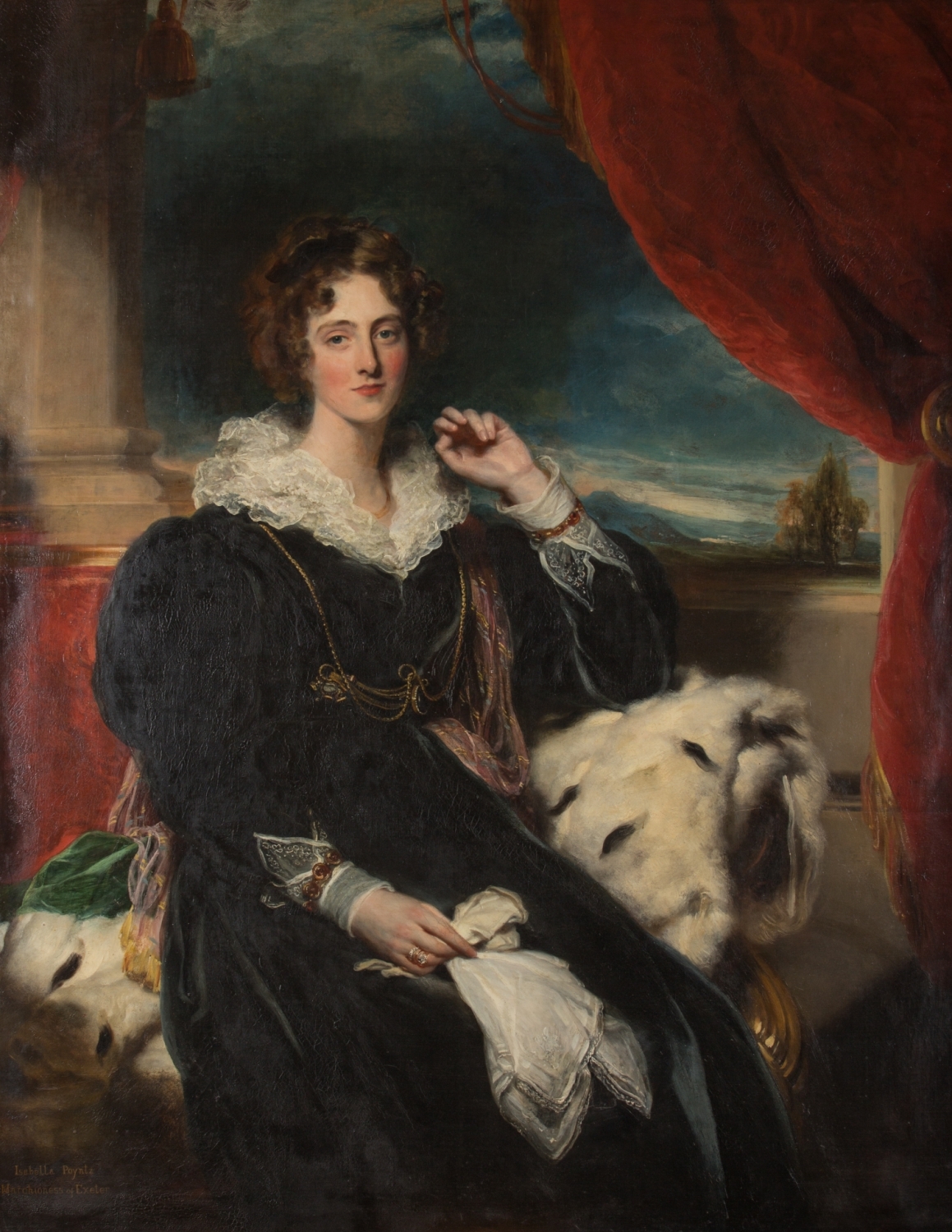 Isabella Poyntz, Marchioness of Exeter, by Sir Thomas Lawrence, P.R.A. (1769-1830) and Sir Martin Archer Shee, P.R.A. (1769-1850)
1795-1867
Brownlow, 2nd Marquess of Exeter
Brownlow inherited the title at the tender age of 9, attaining his majority in 1816. In 1824 he married Isabella Poyntz, a wealthy and beautiful lady who bore him eleven children, seven of which survived. As well as serving as Lord Lieutenant for firstly Rutland and subsequently Northamptonshire, Brownlow maintained an active role in Court circles. He was created Knight of the Garter in 1827, elected to the Privy Council in 1841 and was Groom of the Stole to the Prince Consort from 1841-46. He hosted three Royal visits to Burghley, the most significant being that of 1844 when Queen Victoria and Prince Albert stayed at Burghley for four days. During the visit, Prince Albert stood as sponsor at the christening of Lord and Lady Exeter's daughter, Victoria. The 2nd Marquess was responsible for a great many practical improvements to Burghley. Unfortunately, his love of horseracing caused considerable damage to the family fortune and forced the sale of property and several treasures from the Collection.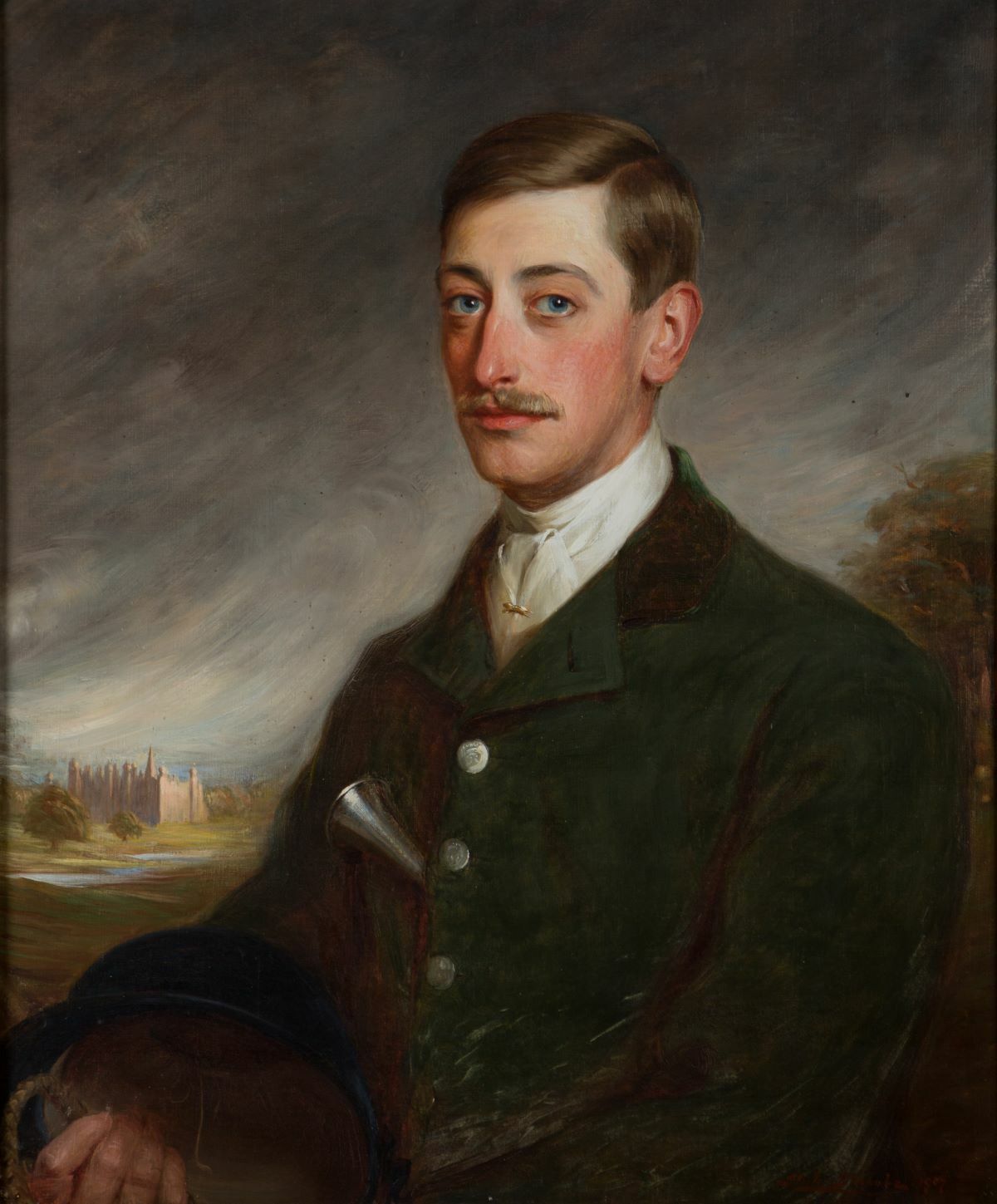 William, 5th Marquess of Exeter
1876-1956
William Alleyne, 5th Marquess of Exeter, KG
The 5th Marquess succeeded in 1898. During the next half-century, he carefully stewarded the House and Estate through the difficult times caused by two World Wars and the agricultural depressions that followed them. During the 1914-18 War, Lord Exeter served as a Lt-Colonel in the Artillery Division, seeing action in France and North Africa. On his return to England in peacetime, he wore a black tie every day to honour those who lost their lives in the dreadful landings at Gallipoli. Lord Exeter was a Knight of the Garter, Lord Lieutenant of Northamptonshire, and ADC to King George V. In 1901, he married the Hon. Myra Orde-Powlett , only daughter of the 4th Lord Bolton.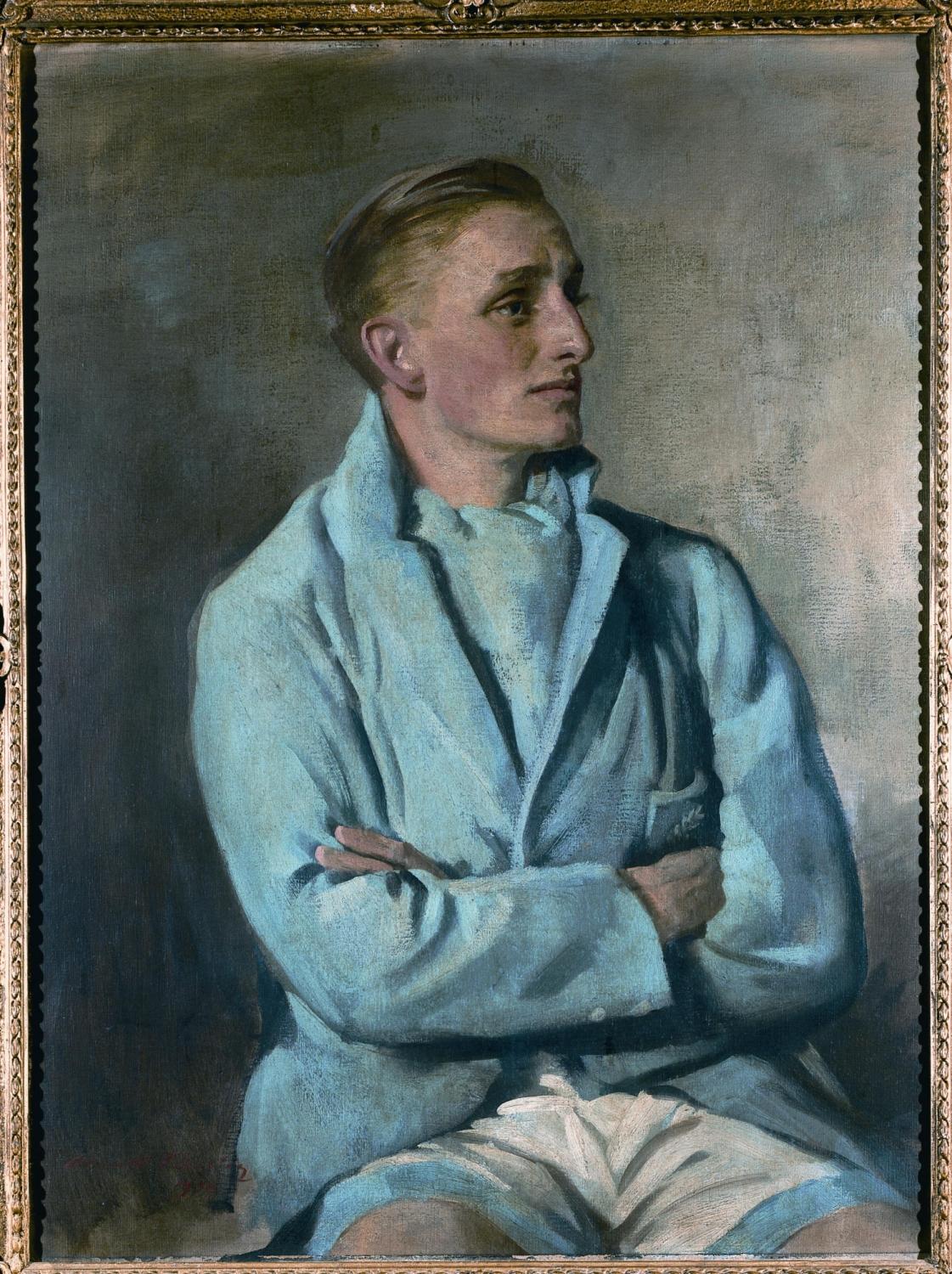 David 6th Marquess of Exeter, by Sir Oswald Joseph Hornby Birley (1880-1954)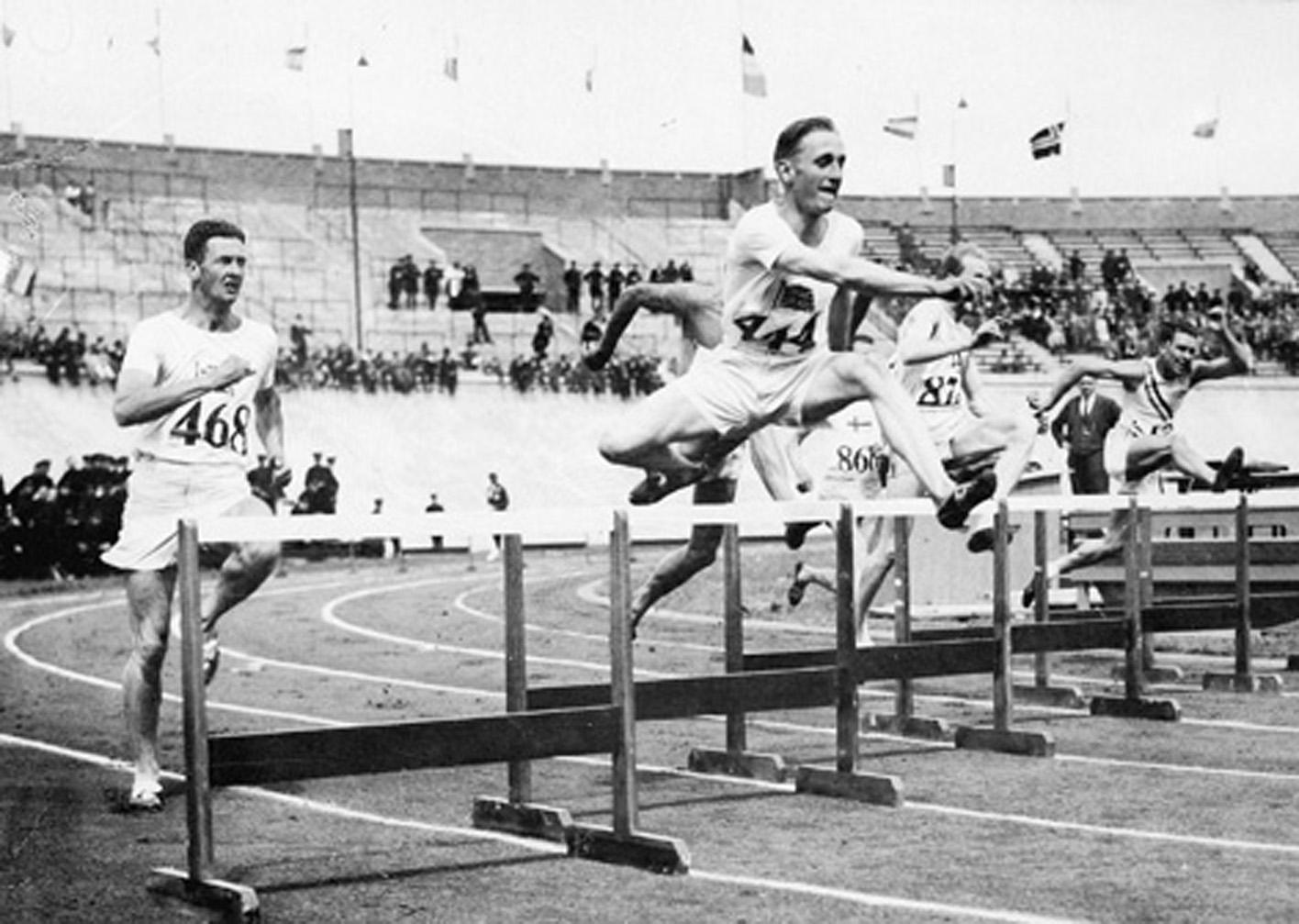 David Cecil,Lord Burghley, with running vest No 444 during the final of the Amsterdam Olympics in 1928.
1905-1981
David, 6th Marquess of Exeter
As Lord Burghley, David Cecil achieved an international reputation as an outstanding athlete. Competing in the Olympics for Britain, he won a gold medal for the 440 yard hurdles in 1928 in Amsterdam and a silver in 1932 in Los Angeles. He was British Olympic Captain for the 1932 and 1936 Olympic games and during his sporting career held many titles, achieving a world record in 1927. He was known as one of the golden athletes of his generation and was immortalised in the film Chariots of Fire portrayed by Nigel Havers. His enthusiasm for promoting amateur sport after the war was expressed in his work as President of the Amateur Athletics Association and member of the International Olympic Committee. He was responsible for staging the 1948 Olympic Games in London which were a huge success under difficult conditions.
David Exeter succeeded to the title in 1956 and took on a huge programme of maintenance of Burghley House which was in need of considerable attention and modernisation - including the introduction of electricity. Also an exceptionally keen rider to hounds, during his tenure, equestrian life at Burghley was more important than ever and for a time he hunted his own private pack. In 1961 he took on the hosting of the three day-event – The Burghley Horse Trials which still flourishes today. Upon the death of the 6th Marquess in 1981, direct ownership of the house, works of art and the wider Estate passed to the Burghley House Preservation Trust, a charitable trust which is dedicated to the maintenance of the house, environs and its contents for the enjoyment of future generations. It was his wish that a member of the family continues to live in the house and work for the Trust as House Director. After his death, his daughter Lady Victoria and Mr Simon Leatham and their family moved into the House and took over the running of Burghley for the Trust. Since 2007 this role has been filled by his granddaughter, Mrs Miranda Rock.