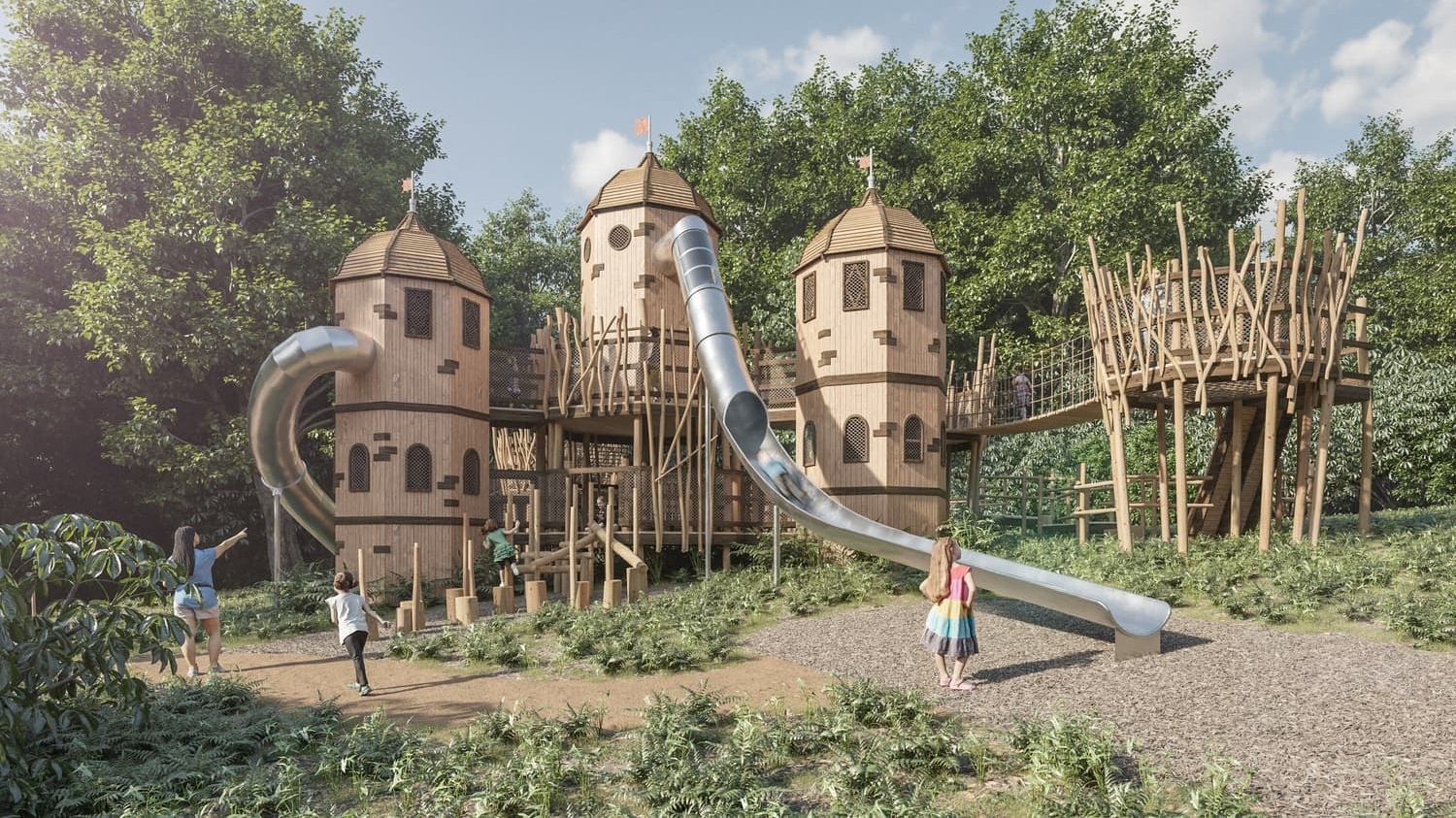 News & Updates
9 Nov 2022
Work Begins on Exciting New Adventure Play Area
Work on an exciting new adventure play attraction has begun at Burghley. Due to open in Spring 2023, the play area will offer a new outdoor play destination for families in the local community and add a child friendly attraction for families visiting Burghley from further afield.

The team at Burghley have worked closely with world-class playground designers, CAP.Co Adventure Play, to create a wonderfully imaginative design, packed with playability which is sure to delight and excite children of all ages. CAP.Co, responsible for the build of the new play area, are an award-winning company who specialise in creating exceptional, narrative-led play experiences beautifully crafted to complement their unique surroundings.

The play area will be situated in an area of the garden adjacent to the Sculpture Garden that up until now has been closed to the public.

"Designed to capture the imaginations of children of toddler age and up, with well-considered facilities for parents and carers, we plan to deliver an amazing space for families to play together within the beauty of Burghley's surrounding nature.
We are thrilled to have begun work on such an exciting project and look forward to welcoming families to this new feature when we open in Spring 2023."
David Pennell | CEO at Burghley Estate
Drawing inspiration from the distinctive architecture of Burghley House, the centrepiece will be a multi-level play tower featuring three impressive tall spires with 'pepper-pot' roof detailing. Varying play elements for all ages and abilities will offer opportunity for play at every turn including a maze of walkways and bridges, drop slides, crawl tunnels, lookout towers, balancing trails, and percussive play. There will be a refreshments kiosk and visitor toilets alongside the play area.

Preserving and enhancing the character of the play area's woodland setting has been an important part of the design process with the construction phase carefully planned to ensure the natural environment is protected as far as possible. The bespoke play facilities are designed to integrate sensitively with the surrounding woodland environment with extensive planting schemes integral to the design.

"We are thrilled to be working with the team at Burghley - one of the greatest Treasure Houses in the country - to create a genuinely unique adventure play experience that is entirely inspired by the exquisite history and architectural significance of the house itself."

Simon Egan | Project Development Director at CAP.Co
The adventure play area will be supported by one of Burghley's other development projects – a purpose-built car park, also scheduled to open next Spring.

The Park, restaurant, café and shop will remain open as usual during the construction stage of both projects.