Santa Fun Run
Join the Stamford Santa Fun Run
A Family Festive Fun Event!
Stamford Santa Fun Run is an annual event attracting people of all ages - and fitness levels. Children and adults receive a Santa suit through their entry fee, and wearing them they can run or walk the 5km course within the safe, attractive and accessible setting of Burghley Park.
Once they have collected their finishers' medals, participants enjoy mince pies, mulled wine or a soft drink in the marquee and stands area. This year we will have three serving areas to avoid queues. Music is played and there is a 'jolly' and relaxed seasonal feel.
Stamford's is the largest Santa run for miles around; as well as a huge contingent from Stamford, people come over from Peterborough, Rutland, Bourne, Grantham and further afield.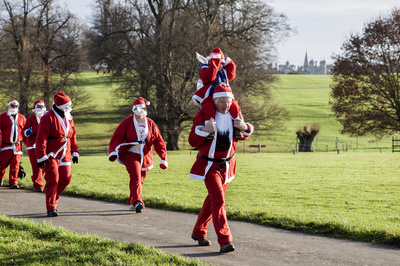 Date
Sunday 10 December
Time
11am
Adult
£15
Child (5-12 years)
£8
It is recommended to arrive early to enjoy the entertainment, warm up, and race festivities.
For full event information visit Stamford Santa Fun Run website.