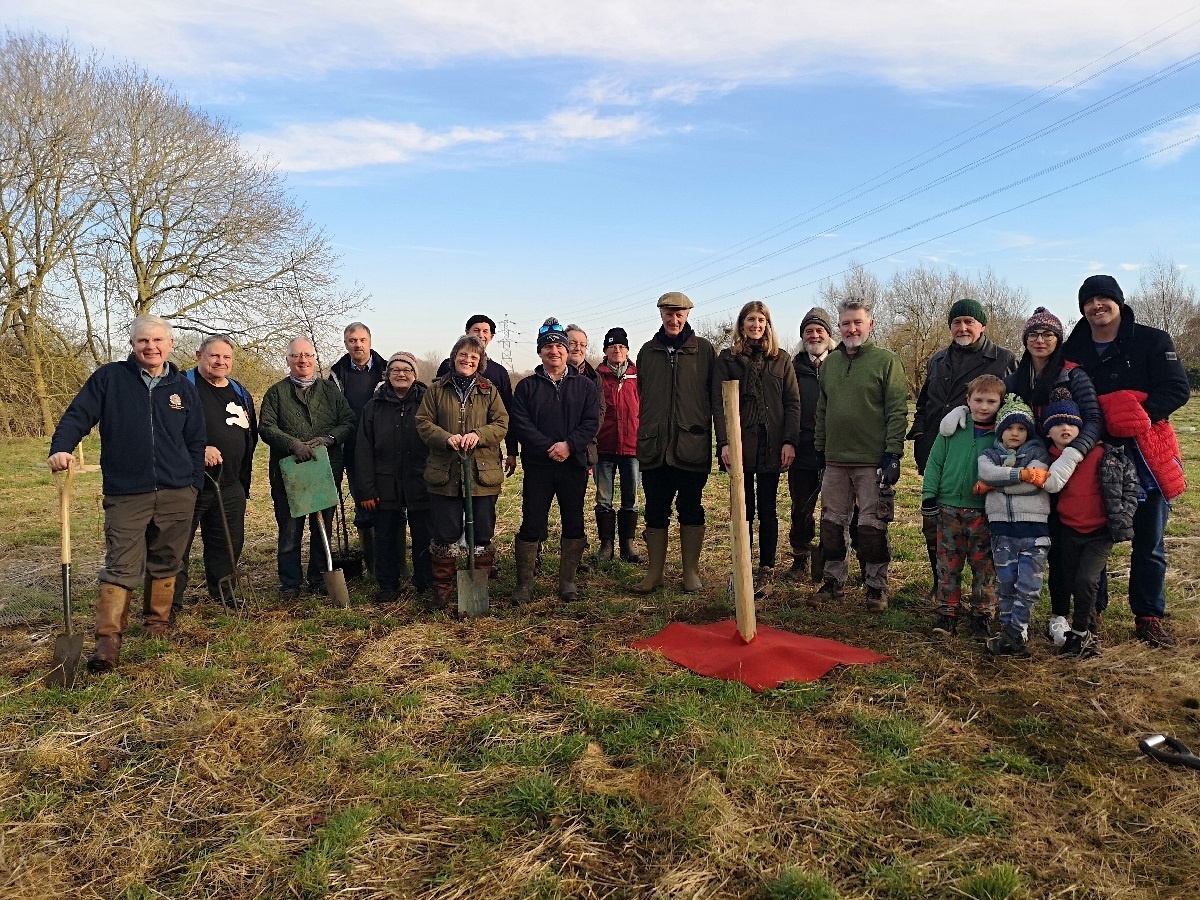 Burghley Projects
25 Jan 2023
New Stamford Community Orchard open at Hudds Mill
The new Stamford Community Orchard site located at Hudds Mill (just off Uffington Road, Stamford and next to the River Welland) spans over 2 acres of Burghley land. A delightful green open space of which the landscape will only be enhanced and transformed into a heritage fruit tree planting area initiated by Burghley Head Forester Peter Glassey, Executive Chair Miranda Rock & the Stamford Community Orchard Group to inspire future generations and encourage easy outdoor community access.

The orchard was officially opened last Sunday (22nd January) by Burghley's Executive Chair and President of the Stamford Community Orchard Group, Miranda Rock. 30 historic and local fruit tree varieties were planted on the day by members of the Stamford Community Group, local residents, and the first young tree was planted by Miranda herself.

It is a fantastic setting for the new community orchard here at Hudds Mill. It's a wonderful space to be planting historic and local varieties of fruit trees and so exciting to see the Stamford Community Group planting alongside local residents and their children. This is a space we will all be able to enjoy for many years to come. Alongside the Queen's Green Canopy endeavour, this orchard planting plays another vital role for us at Burghley in preserving the historic landscape for future generations.
Miranda Rock | Stamford Community Orchard Group at President
Over the next two years, over 90 historic fruit trees varieties will be planted which will see an array of fruit grown in the orchard; from apples, plums, pears, greengages, bullaces, damsons and more.
Adam Cade, member of the Stamford Community Orchard said, "All six historic apples that have been rediscovered and were cultivated from Brown's Nursery on Tinwell Hill, have been planted here today. The reason why we are focusing on such heritage varieties is to ensure we maintain the genetic diversity that we've been developing over hundreds of years.
On behalf of SCOG we would like to thank Burghley Estate. The potential for this Stamford Community Orchard is huge and it will be a fantastic asset to Stamford. I can already envisage family picnics and fruit picking here!"

Burghley Head Forester Peter Glassey who works closely with The Stamford Community Orchard Group and supported on the day said, "I just love working at a place like Burghley, it is a fantastic opportunity to work with heritage tree species and in particular today, the planting we're doing at this new 2 acre community orchard at Hudds Mill is all part of that so local communities and future generations can enjoy this lovely space in perpetuity.
Peter also announced that tree planting will begin on a 15 acre site close to the Orchard (north of River Welland) next November as part of the 70 acres Burghley pledged towards the Platinum Jubilee Wood for the Queen's Green Canopy initiative. Peter and his team will be planting 10 different species on the site once work commences including native broadleaf trees like oak, hornbeam, small leaf lime and elm to name a few.
We will release more about the exciting Queen's Green Canopy project this year.